Physician Orders for Life-Sustaining Treatment (POLST); what Advisors need to know
Date:
Monday, September 12, 2016
Location:
Summit Club, 30th Floor
Speaker:
Jennifer Clark, MD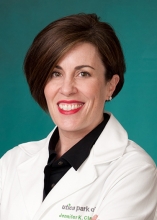 Jennifer Clark, MD, serves as the Chief Quality Officer of Hillcrest HealthCare
Systems and Medical Director of the Palliative Care Services at Hillcrest
Medical Center in Tulsa, OK. Additionally, she is the acting Chief Medical Officer of Hillcrest HealthCare Systems and Hillcrest Medical Center. She has been with the Hillcrest family of physicians since 2010. Dr. Clark earned her degree at the University of Kansas School of Medicine and completed a combined post-graduate training program in Internal Medicine and Pediatrics at the Medical University of South Carolina. She also completed the Palliative Care Education and Practice program at the Harvard Medical School. Dr. Clark is certified by both the American Board of Internal Medicine and the American Board of Pediatrics and holds subspecialty certification in Hospice and Palliative Medicine.