Fraud in Trust and Estate Administration
Date:
Tuesday, April 12, 2016
Location:
The Summit Club, 15 W. 6th Street, 31st Floor
Speaker:
Brett Johnson, CPA/CFF, CFE, CFI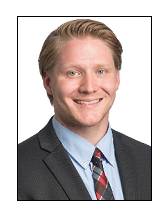 Brett A. Johnson, CPA/CFF, CFE, CFI
Forensic Accounting Senior Manager
405.858.5504 | bjohnson@eidebailly.com
Knowledge and Experience
More than 10 years experience providing forensic accounting and investigative services to a variety of industries.
Specializes in providing fraud detection, investigation and prevention consulting services to clients.
Extensive experience in tracing illicit funds through multiple accounts and entities.
Identifies employee fraud schemes through review of supporting documentation and interviews.
Helps clients file employee dishonesty claims with their insurance providers.
Extensive experience in conducting internal control examinations to aide in strengthening controls over cash and assets.
Experience in providing testimony regarding financial investigations in state, federal and tribal court systems.
Professional Memberships
North Dakota Society of Certified Public Accountants
Oklahoma Society of Certified Public Accountants
American Institute of Certified Public Accountants
Association of Certified Fraud Examiners
International Association of Interviewers
Designations & Licensures
Certified Public Accountant
Certified Fraud Examiner
Certified in Financial Forensics
Certified Forensic Interviewer
Private Investigator, Minnesota
Education
Bachelor of Science, Accounting and Fraud Investigation – North Dakota State University, Fargo